ECOMB's Annual Fundraiser: 2012 GreenRaiser
Friday, June 1, 7:00 pm
NEW DATE JUNE 1ST! (Click on the image above to enlarge it) SUPPORTED BY Join the Environmental Coalition of Miami & the Beaches (ECOMB), one of Miami-Dade County's leading non-profits promoting sustainability, as we host our 4th Annual "GreenRaiser" event at the newly renovated SKYDECK on Lincoln Road, June 1st, 2012. The SKYDECK has spectacular [...]
---
NEW DATE
JUNE 1ST!

(Click on the image above to enlarge it)

SUPPORTED BY

Join the Environmental Coalition of Miami & the Beaches (ECOMB), one of Miami-Dade County's leading non-profits promoting sustainability, as we host our 4th Annual "GreenRaiser" event at the newly renovated SKYDECK on Lincoln Road, June 1st, 2012. The SKYDECK has spectacular 360° views of South Beach including Lincoln Road and the Atlantic Ocean.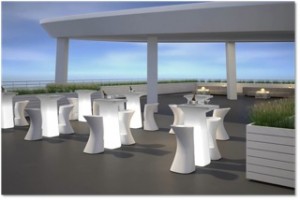 As in past fundraising events, ECOMB's GreenRaiser will bring together a variety of people, products, and practices of sustainability in an exciting evening of music, silent auction, raffle prizes, eco-friendly cocktails and bites, and more. This event aims to create awareness for Miami and Miami Beach's environmental issues and serve as ECOMB's main fundraiser. It will enable ECOMB to continue implementing initiatives to protect and preserve our local community's ecosystem as well as initiate efforts towards the restoration of its new environmental education center: the Miami Beach Center for the Environment.

ECOMB will also honor our community's best environmental leaders working to ensure a more sustainable community with the Annual Emerald City Award. This is sure to be a memorable evening benefitting ECOMB and the local environment.
You will be welcomed with wonderful live music serving as a perfect compliment to the unparalleled views of an exquisite Miami Beach sunset from the magnificent SKYDECK. As our guest, you will enjoy eco-friendly hors d'oeuvres and sip on sustainable cocktails as the sky fills with sunset  hues.

FOR OPPORTUNITIES ON HOW TO GET YOUR BUSINESS INVOLVED, SUCH AS
GREEN GIFT BAG & AUCTION ITEMS DONATIONS 
PLEASE, CONTACT US AT 305.534.3825 OR EMAIL US AT [email protected]
CLICK HERE FOR SPONSORSHIP OPPORTUNITIES
We hope to see you at the
GreenRaiser 2012
---