October 20 – 23, 2011
The Event
South Florida: a distinctive and diverse environment. From the world's third largest coral reef barrier, vast mangrove habitats, the unique and rich Everglades ecosystem, to the US's longest shoreline. A region filled with some of our planet's most complex fauna and flora communities. A region also home to millions of South Floridians. An urban tropical paradise, which attracts millions of visitors, film makers, television production companies, artists, and divers, to our beautiful sunny beaches, Art Deco District, diverse multi-cultural festivals and much more. An ideal place to hold an environmental film festival.

A sustainable relationship with our environment is possible and simply requires the cooperative efforts of multiple people dedicated to the cause of developing a balance that is both sustainable and practical. In doing so, we can ensure a better world for generations to come. The Miami & the Beaches Environmental Film Festival aims to educate individuals using visual arts, and inspire them to become advocates for the environment. Our community houses enough resources, and dedicated members, to set these green initiatives into motion, and make Miami Beach the new "Emerald City by the Sea".

The First Annual Miami & the Beaches Environmental Film Festival

The Festival is a four-day event showcasing films based on environmental issues of local and global concern. The event, taking place from October 20thto the 23rd, is being organized by ECOMB, in partnership with the Miami Beach Cinematheque, The Society of Environmental Journalists and the Big Blue and You. The Festival will feature some of the most contemporary environmental documentaries, addressing issues of urgent environmental importance.
Film Schedule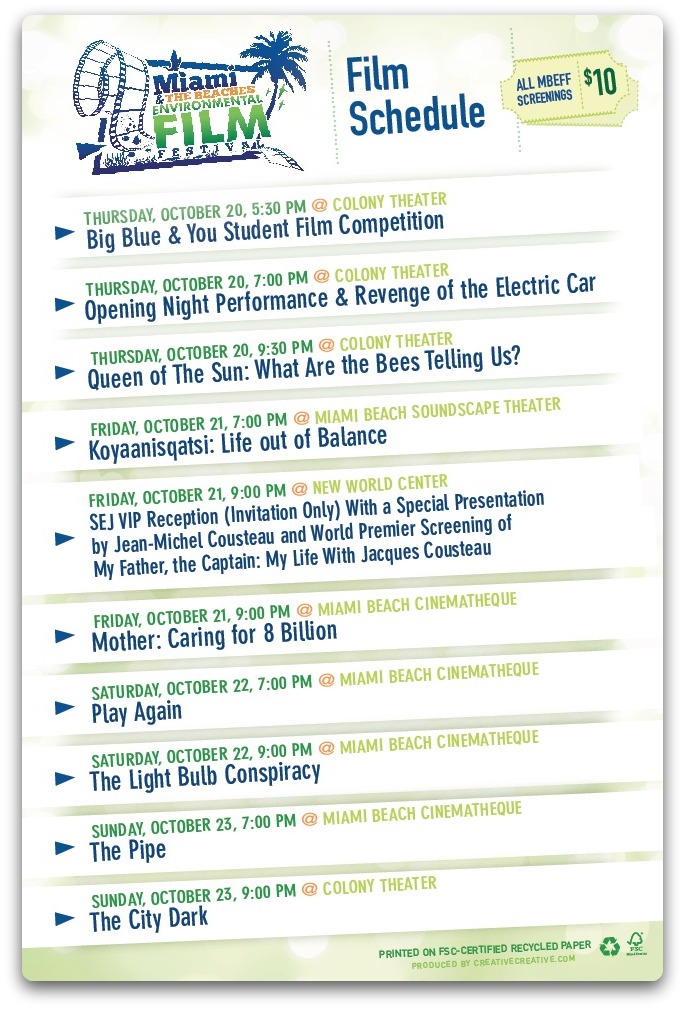 Mission
The Miami and the Beaches Environmental Film Festival is dedicated to bringing cutting edge environmental documentaries to South Florida with the intent of educating, motivating and inspiring participants about global sustainability challenges.
Our goal is to create a platform that will evolve into a stimulating and educational annual event, creating a forum for the exchange of innovative ideas amongst directors, producers, scientists, decision makers and moviegoers. We feel that educating our community through visual means will inspire them to make changes in their everyday lifestyles. In doing so, we hope film festival attendees will further spread our message on the importance of environmental preservation and sustainability.

CLICK HERE TO BECOME A SPONSOR
For more information on the Festival or to submit movies, please contact ECOMB at [email protected] or call us at 305.534.3825.
The Festival's website to be launched soon!